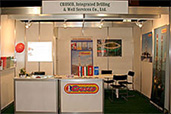 Crosco participated in the 26th International Petroleum Conference and Exhibition in Tihany, Hungary held from the 20th to 24th of  September, 2005.    At Crosco's booth, the company's Hungarian references and experiences were presented including the record for the longest and fastest bit run in Hungary done by Crosco on the Hungarian Horizon's Energy project in 2001.
The upcoming mobilization of Crosco drilling rigs, National 403 (National 80 UE – 1600 HP) and National 801 (National 1625 UDBE – 3000 HP), into Hungary was also presented at the booth as was marketing of Crosco's cementing, directional drilling, case running and other services.
The conference topic addressing the Pannonian Basin was of keen interest to Crosco.    Crosco has been providing services on the Croatian and Slovenian parts of the Pannonian Basin for decades and is looking forward to sharing the company's wealth of knowledge and experience with clients in Hungary.