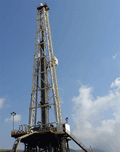 CROSCO Integrated Drilling & Well Services Co., Ltd. is pleased to announce that CROSCO will be providing drilling services with CROSCO 3000 HP drilling rig National 801 for RWE-Dea Nile GmbH (RWE).    Drilling services will be provided in Egypt and will commence prior to the 2007 year end.
The National 801 drilling services contract amends a previous agreement where CROSCO was to have provided drilling services with CROSCO 2000 HP drilling rig Emsco 602 for a two year period.    The rig change was done to meet RWE's new requirements.
Emsco 602 is also expected to be mobilized to Egypt on a long term contract, in mid 2008, upon completion of a drilling services contract for Gulfsands Petroleum PLC (Gulfsands) in Syria.  Meanwhile, CROSCO 1500 HP drilling rig Emsco 401 will be mobilized to Syria to provide drilling services for Gulfsands under a 2 year contract.