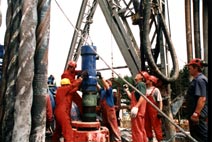 Crosco Integrated Drilling & Well Services is pleased to announce the provision of drilling services in Western Hungary on well Kógyár -1 with the Crosco 1600 HP drilling rig National 403 (National 80UE).
Crosco is an integrated onshore and offshore drilling and well services contractor. The company has a fleet of 48 modern drilling, workover, and geoservice rigs as well as one semisubmersible and one jackup. Crosco is also 50% owner of Noble Crosco Drilling Ltd., which is the operator and owner of a jackup rig.
In addition, with state-of-the-art western equipment, Crosco provides the following services: Well Testing, Coil Tubing, Nitrogen, Cementing, Stimulation, Logging, Mud (Drilling Fluid), Coring, Fishing, and Directional Drilling.
Since 1932, Crosco has provided services in 25 countries for some of the world's most recognized operators and has average annual revenue surpassing US$100 million. Crosco's head office is located in Zagreb, Croatia.